« Back to List View
2018 05: Aromatherapy Newsletter May 2018
Green Valley Aromatherapy – May 2018
Hi Aroma Friends,
Wishing all of our aroma friends a very happy May and Springtime!
May is a very busy month as this is the time to tidy up the garden. Many plants are moved to new locations and new plants are added. This is also a month full of birthdays; my two granddaughters, my sister-in-law, my niece and a friend.
One of my sons has just had a holiday in Australia. On one of their days they went swimming in a lake that is known for its cleanliness. At this time I need to mention that this son of mine has no time for alternative medicine, especially aromatherapy. Since his early teens he has been plagued with eczema, mainly on his legs.
Anyway, back to the story! They all piled into the water. It was chilly, but as they started to play with the children, they warmed up. So, now it is time to leave and as they all came out of the water the first thing they noticed was that there was no sign of eczema on his legs! Everyone was saying that their skin felt better and their muscles were not aching. It was rather amazing.
It turns out, the lake was surrounded by Narrow-leaved paperbark trees (Tea Tree). In the fall, the leaves fall into the water, thus producing tea tree oil with all of its healing properties. I thought that was pretty amazing, showing the proof that Tea Tree Essential oil is everything it is supposed to be.
When I was being treated for cancer and dealing with radiation and chemo, I had two diffusers going in the house, both with the same oils. The essential oils were Frankincense and Melissa. Frankincense was very grounding, helping to keep my feet firmly on the floor. Melissa is uplifting and helps with anxiety. I have mild asthma that is brought on by anxiety so this combination of oils was win win for me. I came through all of this with flying colours.
In March I had hip replacement surgery. I thought it would be nothing and that I would be up and at 'em right away. Boy, was I in for a shock. The surgery has left me unable to drive or walk very well. I am so frustrated! I have the Frankincense and Melissa out again, so now everything will just fall back into place. I am being positive!!!!!
All the best,
Barb
Profile on GoldenRod Essential oil 
The smell of this essential oil brought back some memories of childhood, playing hide and seek in a huge patch of Goldenrod.
Everyone thought of it as a weed. It spreads and takes over the garden if you do not watch it. We were not aware, at that time, of the wonderful healing benefits Goldenrod has.
Goldenrod has a variety of therapeutic uses, including urinary tract infections, allergies, eczema, acne and skin care. It is also used with arthritis, gout, respiratory issues and is emotionally calming. Goldenrod was used by native people and recipes were passed down through the generations. The plant is used as a liver stimulant, antipyretic, antidiarrheal and apparently it is also used for children having difficulty starting to speak or laugh.
If you are working with your Chakras, Goldenrod stimulates the opening of the Crown Chakra. I expect this oil be become one of the top ten oils that you must have. It has so many healing properties and on top of that it is non toxic and non irritant. You cannot beat that!
Goldenrod is 15% off in May 2018!
Profile on Grapeseed oil

Grapeseed Oil
is one the less expensive carrier oils. It is a great value for the price. It has so many wonderful properties. It is a genuine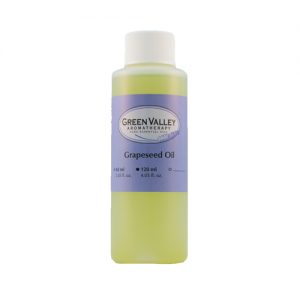 all rounder. Grapeseed Oil contains vitamins, minerals, polyunsaturates, protein and linoleic acid which is very important for your skin and cellular membranes.
From the massage therapists point of view, this oil is penetrating, odourless, mildly astringent and great for all skin types. Grapeseed Oil is pressed from certain grapes, such as Chardonnay and Riesling. When used in massage it leaves a nice glossy film on the skin.
Unfortunately, Grapeseed Oil does not have a very good shelf life. About 12 months unless you keep it in the fridge. Although, it is so nice to use that it likely will not be around that long.
Grapeseed Oil is 15% off in May 2018!
recipe for spring cleaning
Traditionally, as soon as May comes in, it is time to plan the Spring cleaning. Years ago, people would take their household items outside for a good cleaning. Curtains, rugs and bedding would be draped over bushes and trees to dry.
Now we bring in cleaners to do the carpets, vents, chairs and couches. Practically everything. I still get the urge to reorganize and clean in May. It is amazing what you find under cushions and down the back of chairs.
We carry a really good book by Karyn Siegal-Maier called The Naturally Clean Home. It retails for $16.95 which is a good price considering what you can save in cleaning products. Plus no chemicals in your home.
Recipe for Polishing your Wooden Furniture
Mix ingredients together. Do a spot test. If all is well, you are ready to go.
Thank You
This May is the second year anniversary for our shop in downtown Courtenay! We are grateful to all of our customers near and far who have made these past two years very special. Come into the shop in May to play the Scent Game. You could win 10% off your purchase!
Watch our Facebook and Instagram pages for more announcements and specials throughout the month of May.
To see our full newsletter sign up here!